I can't believe that I'm so close to my due date!

Due date is officially Friday.

Of course, ultrasound techs and my doctor have managed to give me 4 different due dates which include the 9th, 10th, 11th and 12th.

So who knows if the 10th is really accurate as my due date, but that's what we'll go with.
I saw my new doctor last Thursday and then again this Monday since she couldn't see anyone this Thursday.

I'm still not crazy about this doctor because she likes to just give general information instead of concrete number information.

You have to sit there and ask for everything…it's very frustrating.

At both appointments, she did an internal exam.

Man that was the worst experience of my life.

I hear it's worse when your doctor has small hands and this one does.

Anyways, the so not fun experience revealed that I'm barely a fingertip dilated (which is not even 1 cm) and pretty much not effaced at all since she said my cervix was still very high.

It's depressing to hear this when you're at 39 weeks.

Then, wonderful new doctor was like I'll see you next Thursday (meaning the 16th) and you'll be almost at your due date.

Ummmmm, no my due date is this Friday.

Do these doctors not bother to read the charts or something?

So she starts having a discussion with herself about what to do because obviously if I go over my EDD then she should be seeing me 2x a week.

Her solution is to send me for a non-stress test (NST) at the hospital next Monday if the baby hasn't shown up by then to make sure everything is going well.

Okayyyyyyyyyyyyy…..

Then she tells me that if I make it to our next appointment on the 16th that we'll discuss and most likely schedule an induction.

OH GOODY!

This is just what I'd like to look forward to right now.
BTW, I did start drinking Red Raspberry Tea Leaf and taking Evening Primrose Oil every day and so far that really hasn't done anything.

I'm still taking the stuff though because you never know if it's helping stuff along.
The To Do list is getting shorter, but it just seems like there's always something new that I need to do and it's daunting.

I just want someone else to get everything done for me so I can sit down and say, "Everything has been done and is ready for the baby."

Any volunteers?

No?

Oh, well!

Booh!
Every time I think I'm done cleaning baby stuff, I turn around and there's another pile.

Ughhh!

I'm not even going to try to clean the toys any more.

My mom can clean all of those when she comes to visit.

I'm a little overwhelmed and I don't really want to deal with them at this time.

Plus I doubt that baby boy is going to care if he had toys to play with in the first few weeks.
In the baby's room, Dre and I put up all the wall decals this weekend.

Now Dre needs to install the double curtain rod so I can add sheer curtains.

I need to buy a garbage can, lamp, and really overpriced letters to spell baby boy's name for the room and then I'll officially be done!

So we're almost done!

It's my goal to do most of this this weekend.
We haven't seen any mice at all in 2 weeks so I think that we managed to get rid of all of them in a couple of days.

Dre did a good job of taking care of that!
Here is this week's picture!

According to a lot of people, I've majorly dropped in the last 2 weeks.

Too bad that doesn't mean that the baby decides to make an appearance now.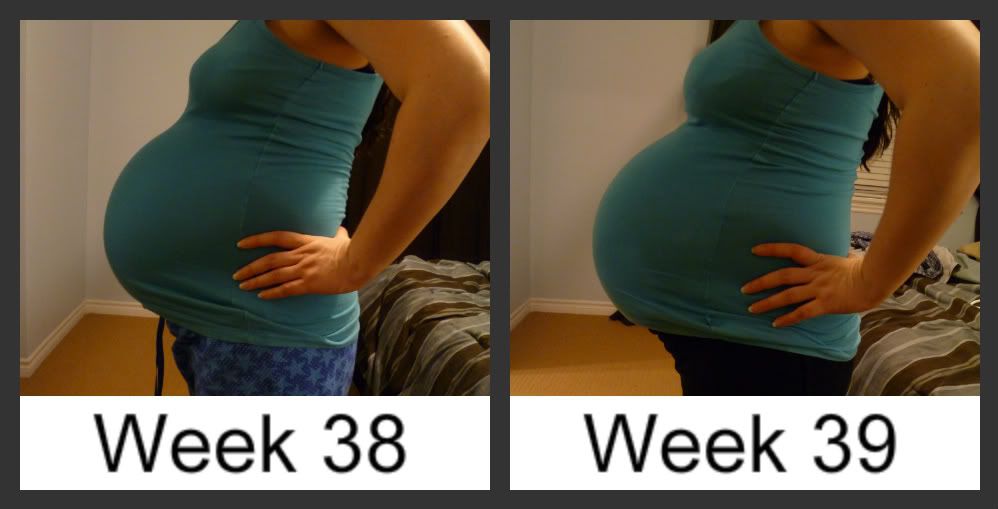 I still think this is going to be a big baby because my weight gain in the past 2-3 weeks has been really high and I'm not eating any more than I was before or any differently.

My average weight this week is 183.5 lbs which is a gain of 1.3 lbs since last week. This makes my total weight gain for this pregnancy exactly 30.5 lbs. With the way that my weight has been this week, I think I'll reach the 35 lbs weight gain easily if I go over my EDD by a week.
I'm tired of talking about acid reflux, indigestion, and heartburn.

They all suck!

End of story.
I still get tired easily and I find that I sleep a lot more.

I go to bed with Dre at around 10:30PM and get up to pee around 4-7 times a night now and sleep until 9:00AM every day.

It takes me a while to do everything because I have to do them around this huge belly and getting up off the couch or the floor is a workout, but I do managed to slowly get some stuff done.

Did I mention that I finally found a diaper bag?

Well, I did and it's not the Coach or Jujube bags I wanted which cost an arm and a leg.

It's a really nice, affordable Carter bag, but it's impossible to get in Canada.

Booh!!!!!!!!!!!!!!!!!!!!!!!!
BHs.

I don't get very many anymore.

I think I was getting so many before because my job was stressing me out.

Since I've stopped working, I don't really get more than a couple a day.
I'm really looking forward to having a baby and having everything organized in my house!

This is what my kitchen looked like last week when I decided to organize my cupboards.

Dre was so impressed
J
I ran out of steam in my last cupboard so I left everything out and directed while Dre put it all back.

I never do this type of organizing because I find it boring, but so far I've done the fridge, freezers (with Dre), and the cupboards.

I might even do the front closet which is stuffed full of coats and shoes we never use.
Baby is still the size of a watermelon.

Who knows what he weighs now, but I think he's well around the 7-8 lb mark.

If he comes out weighing 6 lbs, I'll be very shocked.
We're waiting for you baby boy!

People want to know what we named you and honestly I'm getting tired of not telling.